Paul Raymond Gregory was born the son of a builder in Derby, England in 1949. Encouraged by his art teacher, Paul always created less conventional paintings than his peers. His early work, mostly atmospheric landscapes, were usually painted on location and gave Paul a great appreciation of nature in all its diversity and moods.
Paul's artistic journey has taken many paths, including owning his own Gallery, Chapel cottage Galleries, which was located in the Derbyshire village of Spondon and is the place where Paul still Lives today. Paul purchased two dilapidated 200 year old cottages which were due for demolition and convinced the local authorities that a gallery would be a preferred option to demolition. It was at this time that he decided to take his journey with Tolkien's fictional universe, which had fired his imagination from a young boy and inspired him towards the world of fantasy art.
CHAPEL COTTAGE GALLERIES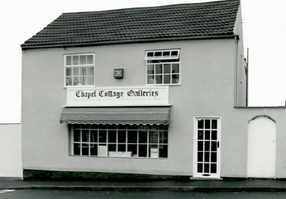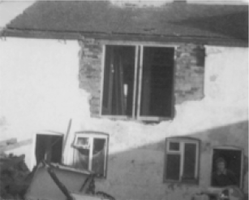 On opening the Gallery Paul held many exhibitions by local and international artists. Never having time to put together an exhibition of his own work Paul decided to create a major exhibition never considering the possibility that four decades later he would still be producing work from the series.
Paul held a major exhibition at the Galleries by Wildlife artist David Shepherd, David also held a talk at the Assembly rooms in Derby as part of the exhibition. Only recently on looking at old photos did Paul realize the same week that David held the talk, Motorhead were playing at the Assembly rooms.
The Assembly Rooms was later to prove a major stepping stone for Paul and a natural progression as an artist and his designs.
Exhibitions and coincidence
Owning a gallery was like a dream come true, I had to pinch myself daily to see if it wasn't a dream. Having established the Gallery it was time to lift the bar and to that end we introduced some major exhibitions to Gallery's roster. Terrance Cuneo and David Shepard both held one man shows at Chapel Cottage Galleries.
When David Shepard held his work at the Gallery it was also decided to organise a talk for David at the Assembly Rooms in Derby, this was in realtion to his work with WWF, World wildlife Fund,http://www.davidshepherd.org/about-us/david-shepherd/
the evening went well with lots of support for the charity. It wasn't until recently I found this old advert which was a shock given that some 20 odd years later we would be holding the first Bloodstock at the Assembly Rooms even stranger to see that on the bill for the Week of David's talk was Motorhead.
Five years after this Exhibition my first album cover came knocking, Saxon's Crusader.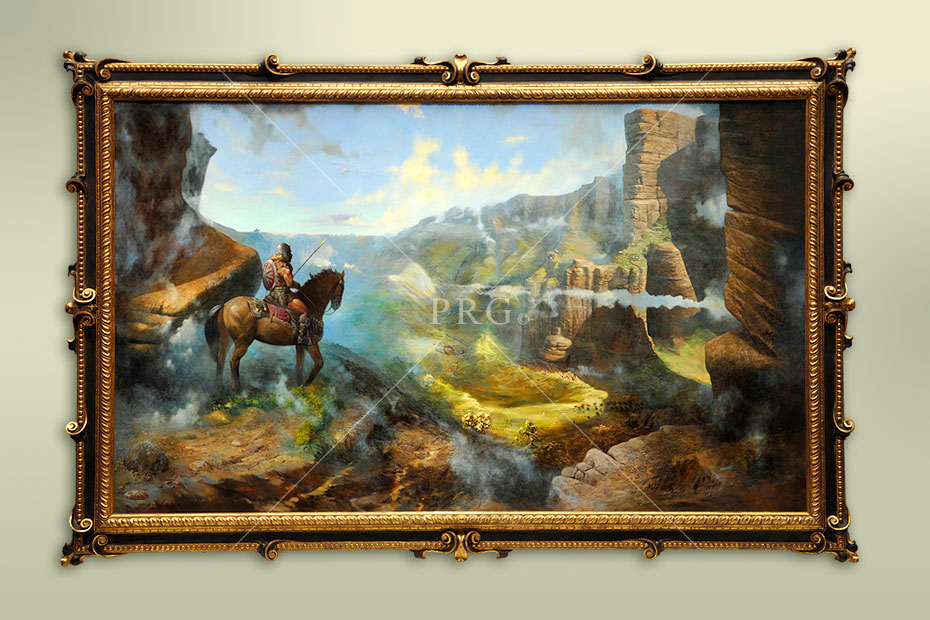 It was in the 70s that Paul embarked upon his journey with Tolkien, his first canvas 10×6 feet titled: Ride of the Rohirrim, this was followed by Carahdras, then The Fall of Boromir. After the painting of the Rohirrim, Paul made the acquaintance of Peter Nahum, Peter, who at the time was with Sotheby's on seeing Paul's work kindly offered to organize a touring exhibition at Sotheby's throughout Great Britain culminating at the fringe at the Edinburgh Festival. This proved to be very popular and in 1984 as a direct consequence of the Edinburgh Festival, Paul was invited to exhibit his work at the Barbican in London. Peter Nahum left Sotheby's to set up his own gallery that year and, subsequently became his patron. His complete Tolkien series was exhibited for the first time at L'univers des Fées, an exhibition at the Abbaye de Daoulas, near Brest, Brittany, France December 2002 – February 2003.
At the 2007 Stockholm exhibition, the public were able to view the complete series to date for the first time, framed in magnificent and monumental hand-carved frames by John Davies framers. https://www.studio54.co.uk/video/videos-waldemarsudde-museum-in-stockholm/
1984 was a productive year for Paul, it was then he was introduced to the world of Heavy Metal, he had the good fortune to make the acquaintance of the Band 'Saxon' and their indomitable singer Biff Byford. He was commissioned to do the artwork for the album and the stage designs, the album was 'Crusader', now a classic in the annals of rock. Paul has painted seventeen albums to date for the band including their latest Solid Book of Rock and has developed a great friendship with Biff and the boys. Paul says, if you have never been to a Saxon gig, make sure you do before you die.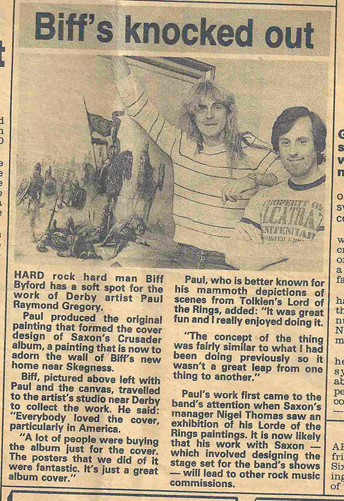 Saxon were also to play a pivotal roll with Paul's next venture, albeit a departure from his art it was well connected and part of his next journey.
Having produced several album covers over the following years for Saxon, Molly Hatchet,Freedom Call, Uriah Heap, Dio, The Company of Snakes, Beholder , Battalion in 2001 Paul took his next significant step with the Creation of the UK's premier Metal Festival "BLOODSTOCK" Paul has always stated whilst Bloodstock was not his idea he was co founder and the one left with the festival and the bill.
Bloodstock has grown dramatically over the years with the aid of Paul's children, who are now co-directors, the festival's continued growth is a testament to their commitment, passion and basic hard work for the festival and it's aims.
Paul is now taking his next journey with the art and music that inspire him, going back to his roots by creating a Galley and Venue for the art and the music he supports.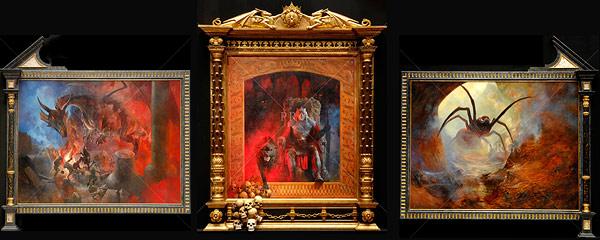 IMAGES FROM "THE LORD OF THE RINGS" by JRR TOLKIEN AND OTHER TALES: 1978-2006
The next journey